About the Model


Opening the Future is a collective subscription model that, through its membership scheme, makes library funds go further: achieving the dual objectives of increasing collections and supporting Open Access.


Put simply, library members pay a small annual fee to get DRM-free, unlimited access to a selection of a publisher's backlist, with perpetual access after three years; the membership revenue is used by the publisher solely to produce new OA monographs. Read on for more details.


How it works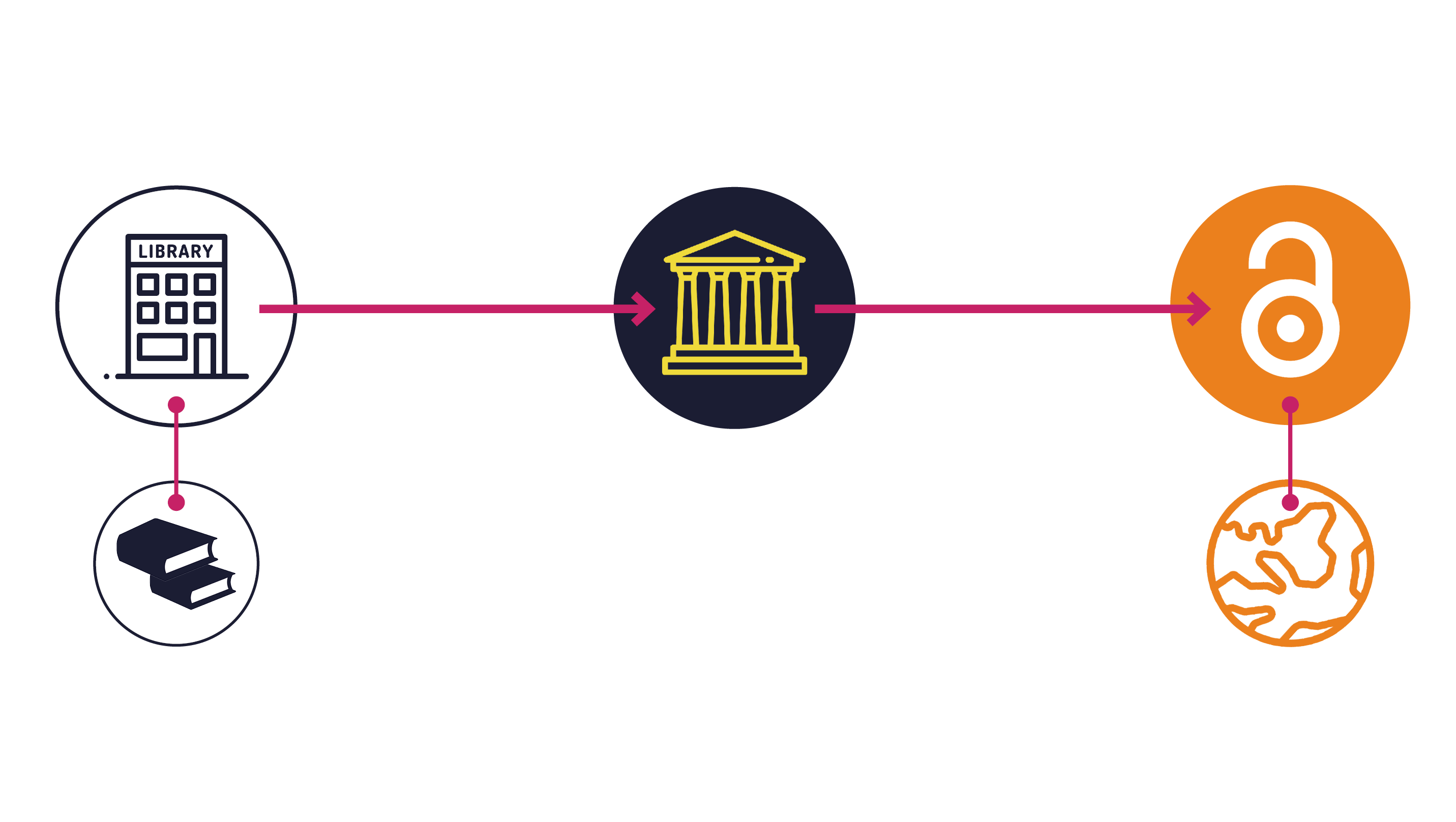 Go to the Liverpool University Press Opening the Future site
Go to the CEU Press Opening the Future site
You can watch an animated video explaining the model in 60 seconds by clicking on the icon below.
Background
Covid-19 has thrown many aspects of university research culture into acute relief. As the reality of the virus dawned and campuses worldwide went into lockdown, publishers rushed to open their publications by removing paywalls. Physical collections became inaccessible and demand for openly accessible research skyrocketed. Many publishers made topical works and more general material openly available, through their own sites or collective platforms. It seems clear that there is an opportunity to reassess scholarly communication in the book publishing world.
Building on library journal subscription models and successful book membership programmes, Opening the Future funds new open access (OA) books that will be available to anyone. With small contributions from a large number of academic libraries, no single institution bears a disproportionate burden, and scholars and institutions around the world stand to benefit.

There are many academic libraries purchasing books, but by implementing a subscription model to purchase books, we broaden the pool to bring libraries who have not yet funded OA schemes into the fold. They come for the backlist and we hope that they will then stay for the OA.

The model scales dynamically. Presses that have adopted it will continue to operate exactly as they are at the moment. However, the moment they have enough revenue to make a book OA through the scheme, the next book to be published can be made open access. In this way, presses don't need to wait until they have 200 libraries (for example) to start making things OA. Open access publishing can start once they have around 10 or 15 members (this number will vary depending on individual press publishing costs).
Opening the Future launched in October 2020 with the Central European University Press coming forward to pilot the model, and it expanded in June 2021 with Liverpool University Press adopting a version of the model for two of their book series. You can access the books and membership deals on offer from all participating presses by clicking on their logos on our home page or by clicking the buttons below.



Go to the Liverpool University Press Opening the Future site
Go to the CEU Press Opening the Future site
The future
The initiative was launched by Work Package 3 of the COPIM project: an international partnership of researchers, universities, librarians, open access book publishers and infrastructure providers supported by the Research England Development Fund (REDFund) as a major development project in the Higher Education sector with significant public benefits, and by Arcadia, a charitable fund of Lisbet Rausing and Peter Baldwin.

If we wish to see a fair transition to open access for books, across the university sector, we need presses to implement these models themselves – models like Opening the Future that scale dynamically as the revenue becomes available and that can set us on the right path. COPIM will be writing up everything we have done in implementing this model and releasing the software, so that others can also take the leap. If we can get this to catch on, we would truly see a sustainable transition to a much better, much more open model of open access to book-length scholarship.